Westborough Community Events Blog Post for the Weekend of June 29th and 30th
Annual July 4th Block Party
Friday, June 28th
5:30 PM - 9:30 PM
Bay State Common, 600 Union Street, Westborough, Massachusetts 01581
Join the Rotary Club of Westborough for an evening of music, fun, food, pony/hayrides, inflatables and more!
Walk the Town Scavenger Hunt
Saturday, June 29th
2:30 PM - 4:45 PM
Westborough LibraryTeen Zone, 55 W Main Street, Westborough, Massachusetts 01581

Form a team of teens and search the streets of Downtown Westborough for mystery items and photo opportunities. The team that "collects" the most points will win a $60 gift card to be split among teammates. The hunt will conclude with free pizza and ice cream for all participants. Register your team today! This event is open to teens entering grade 6 through 12. Teams need a minimum of two members but no more than 4. The event will begin and end at the library. Pizza will be served at 4 PM.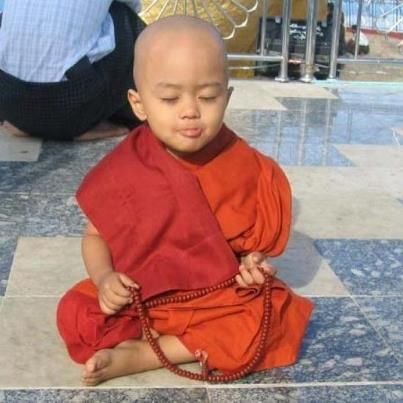 Yoga Body. Buddha Mind. A Half-Day Retreat for Healing
Saturday, June 29th
10:30 AM - 3:30 PM
Sohum Yoga and Meditation Studio, 30 Lyman Street, Suite 108B, Westborough, Massachusetts 01581

Join Sohum owner Ritu Kapur with former monk and Siddha Healer, Seth Monk, for a Half Day Retreat at the studio. Through yoga, meditation, sharing a group meal, and a special Siddha Healing, this retreat aims to give you full energetic rebalancing while still leaving time for your Saturday night plans.

After a group introduction, the retreat will begin with Ritu leading the group in a 90-minute yoga session where you will have the opportunity to fully stretch and relax your bodies. After yoga, the group will come together for a home-made of lunch of lentil soup and salad prepared by Ritu. After lunch, Seth will guide the group in a short guided meditation to begin the process of dropping you more deeply into our own peaceful awareness. After the meditation, you will lie down, relax, and receive a Siddha Healing from Seth and the crystal mandala. These Healings are a powerful, deep, and profound way to completely shift and recharge your subtle energies and relieve any remaining emotional stress.

This retreat will be a great way to spend your Saturday, enjoying, sharing, and practicing with the Sohum community. Sohum Yoga and Meditation Studio hopes to see you there.

Beginners are welcome for this Retreat!

Cost ~ $88 early bird ($98 after June 23)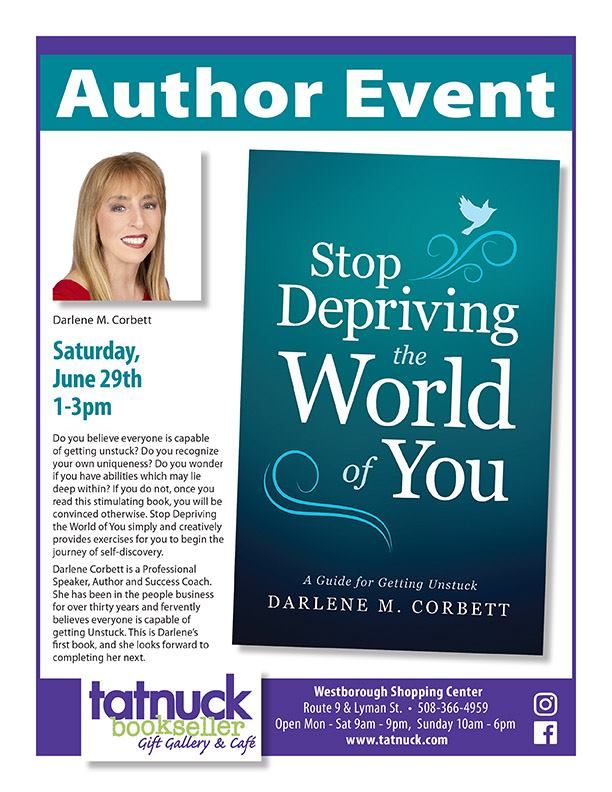 Author Event: Darlene Corbett
Saturday, June 29th
1:00 PM - 3:00 PM
Tatnuck Bookseller, 18 Lyman Street, Westborough, Massachusetts 01581
Do you believe everyone is capable of getting unstuck? Do you recognize your own uniqueness? Do you wonder if you have abilities which may lie deep within? This book simply and creatively provides exercises for you to begin the journey of self-discovery.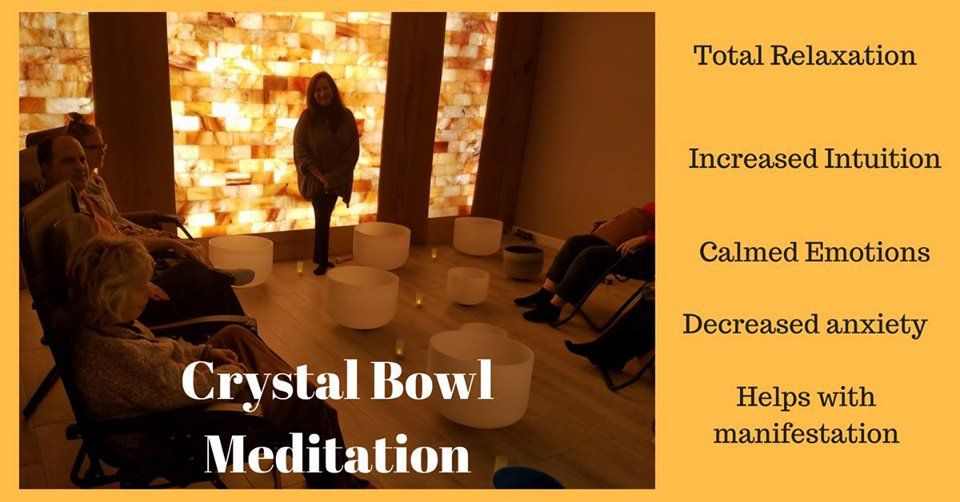 Crystal Bowl Meditation
Saturday, June 29th
4:00 PM - 5:30 PM
New Beginnings to Health, 45 East Main Street, Westborough, Massachusetts 01581
Are you looking for:
- total relaxation
- to increase your intuition
- to calm your emotions
- to find help manifesting your dreams

Then Crystal Bowl Meditation is the place that you need to be. Priscilla Gale takes you on a journey through the vibrational energy of her crystal bowls and enhances the experience by playing them in a salt room. Priscilla Gale takes you on a journey through the vibrational energy of her crystal bowls and enhances the experience by playing them in a salt room.

This event sells out regularly. Book early!

Cost is just $35. Registration is required because space is extremely limited. Call 508-366-8292 to sign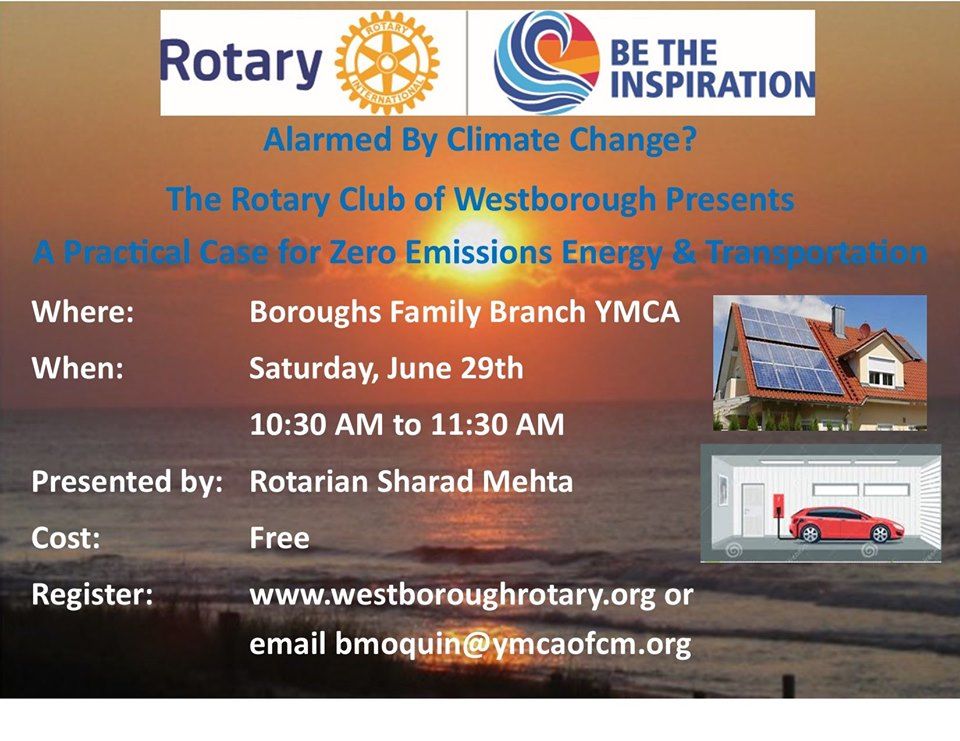 Zero Emissions Energy & Transportation Talk
Saturday, June 29th
10:30 AM - 11:30 AM
Rotary Club of Westborough, Westborough, Massachusetts 01581
Westborough Rotarian Sharad Mehta will be giving a talk on Zero Emissions Energy & Transportation. He and his family have gained a great deal of knowledge as they have made positive changes to how they run their household. This is a great opportunity to gain some insight and see what we can all do to combat climate change.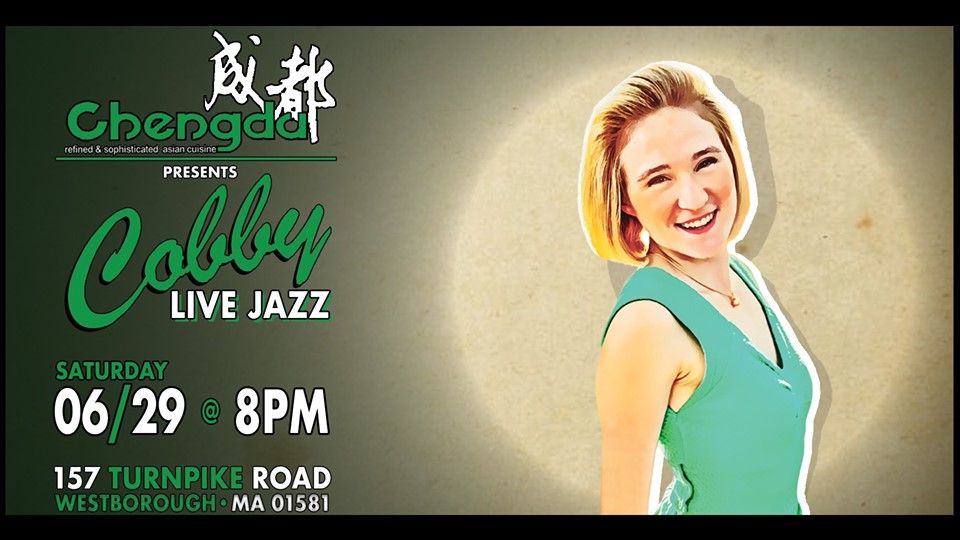 Jazz with Coby Brzeski at Cheng Du Restaurant
Saturday, June 29th
8:00 PM - 11:00 PM
Cheng du Restaurant, 157 Turnpike Road, Westborough, Massachusetts 01581
Cobby Brzeski instills a new youthful energy into the traditions of jazz and swing, bringing revamped classics from the American Songbook that will make you want to grab a drink and dance the night away! She is a nationally touring, multi-genre, multi-instrumentalist, vocalist, and songwriter based in Naples, Florida and San Diego, CA. Cobby's firm grasp of harmony, playful melody writing and vulnerable storytelling has inspired a fresh new brand of music that can cause the soul to dance and the heart to weep. While Cobby's roots are in Jazz in the Swing Idiom, Cobby's music is influenced by a multitude of genres that range from Indie-Acoustic, Alternative, R&B, Hip-Hop, Funk, Pop, etc. Hailed as a vintage girl in a modern world, Cobby's artistry is a blend of influences; reminiscent of the talents of legendary jazz artists such as Ella Fitzgerald and The Andrew Sisters, combined with a twist of today's modern artists like Jason Mraz and Cyrille Aimee. Cobby has performed all over the United States and makes frequent visits to New England, Florida, New York and California.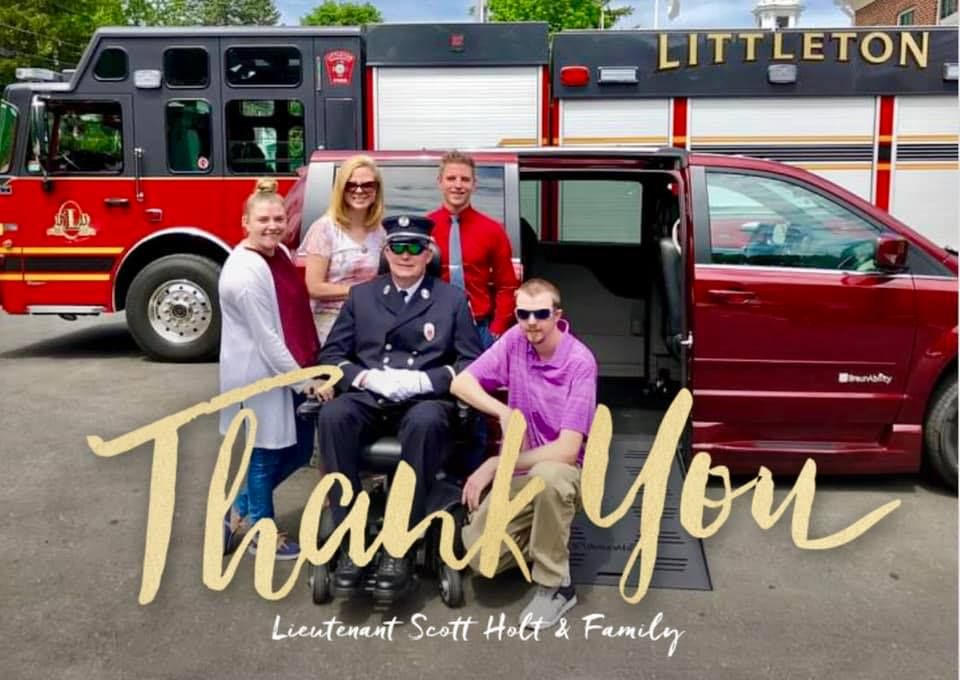 3rd Planning Meeting for August Fundraiser
Sunday, June 30th
4:00 PM - 6:00 PM
DoubleTree by Hilton Boston - 5400 Computer Drive, Westborough, Massachusetts 01581
Hope for Holty needs help!!!! For anyone that would like to help with the planning, soliciting of Raffle Items/ Silent Auction Items for Fundraiser, volunteering for the day/night of the fundraiser, this would be an important meeting to attend. Hope for Holty appreciates any & all help with the tasks at hand to help create a really fun, informative and successful evening to provide relief from the financial burden of Scott's injuries/medical condition. Can you join us??
Hope for Holty came about after a life-altering accident on 9/16/17 while on shift at the Fire Department; changed the course of Scott's life both personally & professionally.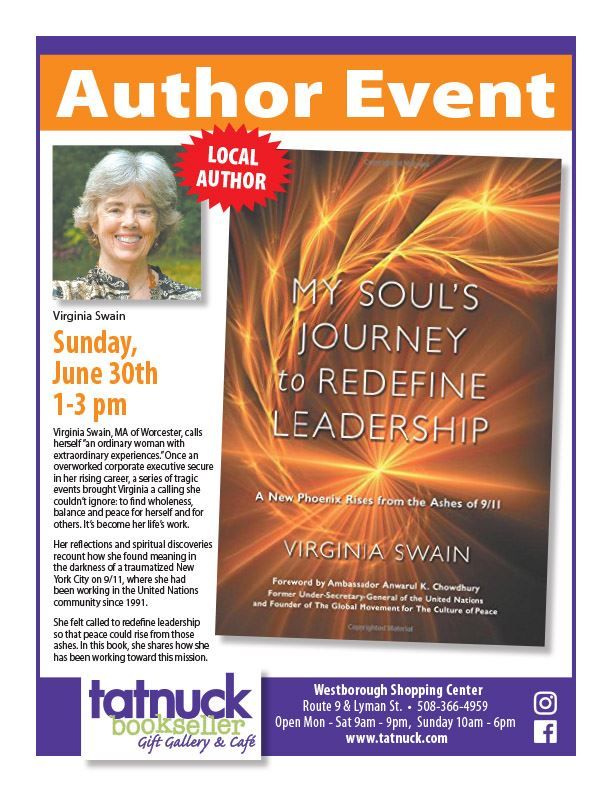 Book Talk and Signing
Sunday, June 30th
1:00 PM - 3:00 PM
Tatnuck Bookseller, 18 Lyman Street, Westborough, Massachusetts 01581
The story of an ordinary woman with extraordinary experiences, Virginia Swain's soul journey takes her from the devastating loss of her brother to moments of peace, visions of a new future, and after a harrowing day in New York City on September 11, a vivid dream of a phoenix rising from the city's ashes, calling her to a new definition of leadership — one of empowerment, reconciliation and peace.

Reflecting on a series of deeply spiritual encounters, Virginia recounts how she evolved from an overworked corporate executive to a woman who learned to live with integrity, purpose and confidence, experiencing a calling she couldn't ignore — to bring leadership, wholeness, balance, and peace to a world torn by conflict.

Bringing the spiritual to the practical, she shares stories of moments of grace on mountaintops and by the sea, and of healing experienced by groups as diverse as attendees at the Earth Summit in Rio de Janeiro, consulting clients in California, United Nations staff, United Nations peace-builders addressing religious conflict in the Philippines, and refugees from the former Yugoslavia.

As her journey unfolds, she finds her vocation, a life partner, a new perspective on death, and a sense of her own worth and capacity to contribute to her country and our world. Throughout this compelling narrative, Phoenix invites the reader to undertake their own soul journey, closing each chapter with journal questions to prompt further reflection.