Westborough Community Events Blog Post for the Weekend of June 21st and 22nd
Bros and Brews
Friday, June 21st
6:00 PM - 11:00 PM
CrossFit Prototype 50 E Main Street, Unit 1, Westborough, Massachusetts 01581
1. Awesome Event for anyone 21 or over
2. Bunch of Bros working out and flexing
3. Brews to follow and perhaps a flex off
4. BYOB and Pot luck
5. Bring a Friend, co-worker, neighbor or relative. This is a free event and an awesome opportunity to hang out and get sweaty
MA: Ice Cream and Packing Night
Friday, June 21st
4:00 PM - 8:00 PM
Helping Hand for Relief and Development, 80 Turnpike Road, Westborough, Massachusetts 01581

Come help pack and make your own ice cream sundaes and enjoy delicious falooda.
To make contributions to help with the cost of shipment or for more details please contact:
Zaafira Kazi: 303.396.7222 | [email protected]
Humayun Kabeer: 603.785.8234 | [email protected]

Help Support and DONATE generously:
Website: www.hhrd.org
Phone in: 800-808-HELP (4357)
Mail: Helping Hand USA, 21199 Hilltop St, Southfield, MI 48033
Or donate via 'HHRD" app now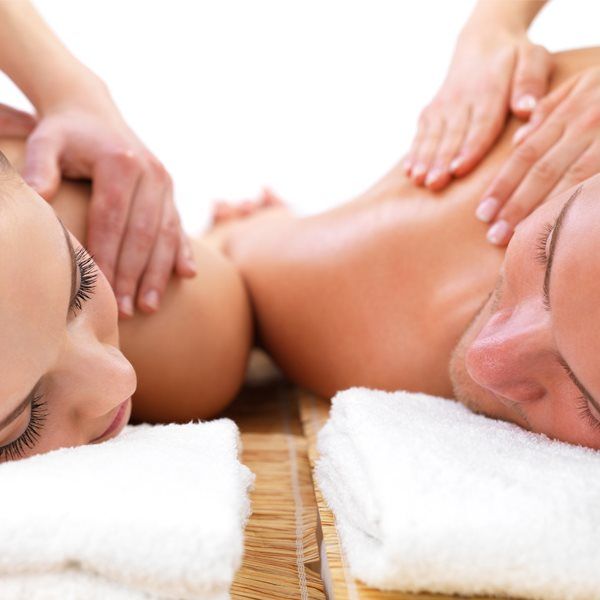 DIY Couples Massage
Friday, June 21st
6:00 PM - 8:00 PM
Westborough Massage, 18 Lyman Ste 207 & 209 Westborough, Massachusetts 01581

Two experienced Massage Therapists are excited to share their knowledge to enhance your relationship through touch. Learn Massage Skills to unwind, de-stress and increase your intimacy. Includes beginners manual, a tube of bio-tone massage cream, and instruction for each partner to deliver a basic 30 min full body massage. Light refreshments will be provided.


Sohum Solstice Celebration
Friday, June 21st
10:30 AM - 11:45 PM
Sohum Yoga and Meditation Studio, 30 Lyman St, Suite 108B, Westborough, Massachusetts 01581
Celebrate the longest day of the year with Ritu Kapur with some gentle yoga, meditation and yoga nidra. Cost ~ $20. You can use your class card for this workshop
Screen on the Green Lineup Live Announcement from DC
Friday, June 21st
6:00 PM - 6:10 PM
Westborough Public Library, 55 West Main Street, Westborough, Massachusetts 01581
The four film lineup of outdoor movies is set! Library Director Maureen Ambrosino will be making the major announcement THIS FRIDAY live from the Washington D.C.! She will unveil clues for you to make guesses and then reveal which four blockbuster films will be featured under the stars at Bay State Commons and Lake Chauncey. Tune in here at 6 PM Friday, interact with Maureen as she hosts this special announcement, and save your summer Thursdays for this annual family tradition!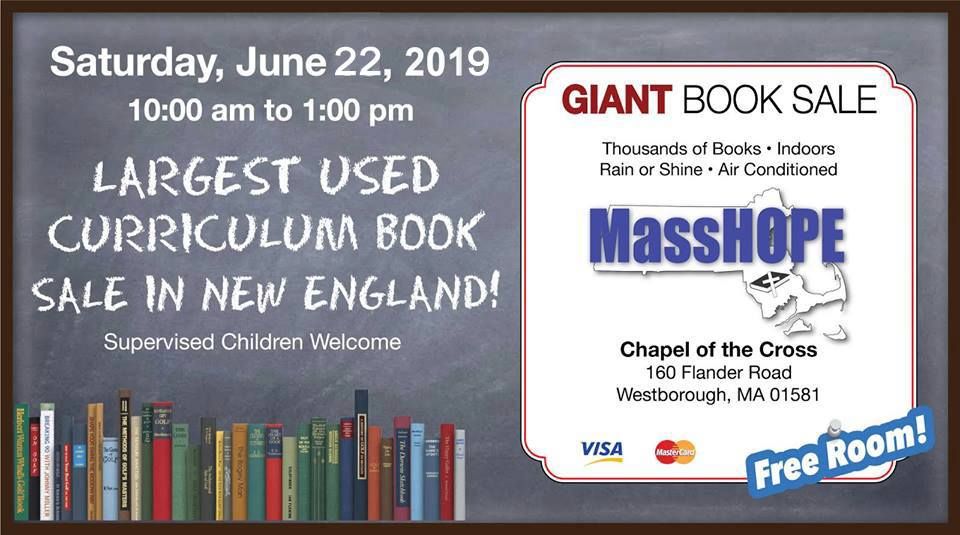 MassHOPE 2019 Used Curriculum Sale
Saturday, June 22nd
10:00 AM - 1:00 PM
Chapel of the Cross, 160 Flanders Rd, Westborough, Massachusetts 01581
New England's Largest Used Curriculum Sale! Free entrance to all-- no need to be a seller or even a homeschooler to attend! The Chapel of the Cross is an air-conditioned facility on one level with easy access for parking and loading/unloading. We have thousands of items for sale organized by subject, publisher, and grade. We also have a large FREE room. We will have volunteers to help pregnant mothers and those with special needs. The "Chivalry Livery" will be on hand once again to help bring books to cars. The Book Rest table will also be available for weary arms. No childcare facilities are available. This is an intense shopping time with hundreds of shoppers and thousands of books in a gymnasium-sized space. You will find it easier to concentrate if you can make childcare arrangements for toddlers and preschoolers.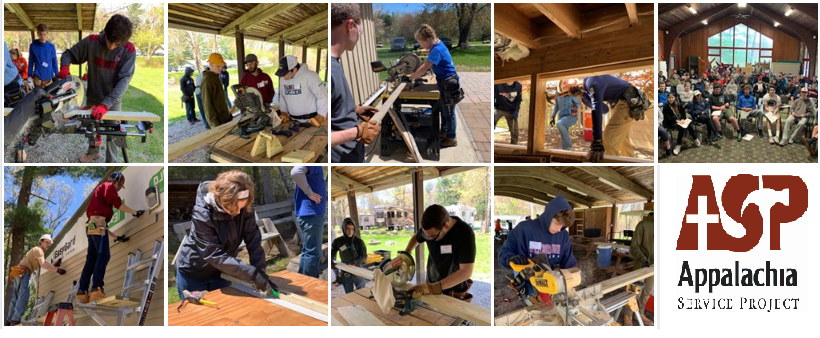 ASP Can & Bottle Drive
Saturday, June 22nd
9:00 AM - 12:00 PM
Appalachia Service Project: Westborough, Massachusetts 01581
Last chance to clean out your cans and bottles AND help send our crew to Kentucky this summer. You can always drop items off beforehand in the FUMC Can Shed.
Author Event: Alex A Lesson in Courage by Joseph Bebo
Saturday, June 22nd and Sunday, June 23rd
1:00 PM - 3:00 PM
Tatnuck Bookseller, 18 Lyman Street, Westborough, Massachusetts 01581
Join us this Saturday and Sunday for an author event featuring one of Tatnuck's favorite local authors. Joe has written several fiction books as well as a nonfiction account of a summer spend drumming with Van Morrison. In "Alex A Lesson In Courage" Joe tells the true story of Alex, a boy with special needs, as told by those who knew him.
Jazz at Cheng du
Saturday, June 22nd
8:00 PM - 11:00 PM
Cheng du Restaurant 157 Turnpike Road, Westborough, Massachusetts 01581
Enjoy the swingy and stylish jazz vocals.
Kaoruko Pilkington (vo) with Pamela Hines (key) and Mike Ball (bs)
Acupuncture in the Salt Room
Saturday, June 22nd
9:30 AM
Just Breathe Sale Room, 45 East Main Street, Westborough, Massachusetts 01581
Come into Just Breathe in Westborough for a special session of Acupuncture in the Salt Room! Starting at 9:30 am, Saturday, June 22nd for Community-style acupuncture in the salt room. Receive the benefits of salt therapy and the healing modality of Acupuncture. Cost is only $60/session. We will start with a small initial intake, then you will relax in the salt room with needles in for 45 minutes. Call (508) 561-5202 to reserve your spot! For more information about Salt Therapy: http://justbreatheasaltroom.com/salt-therapy/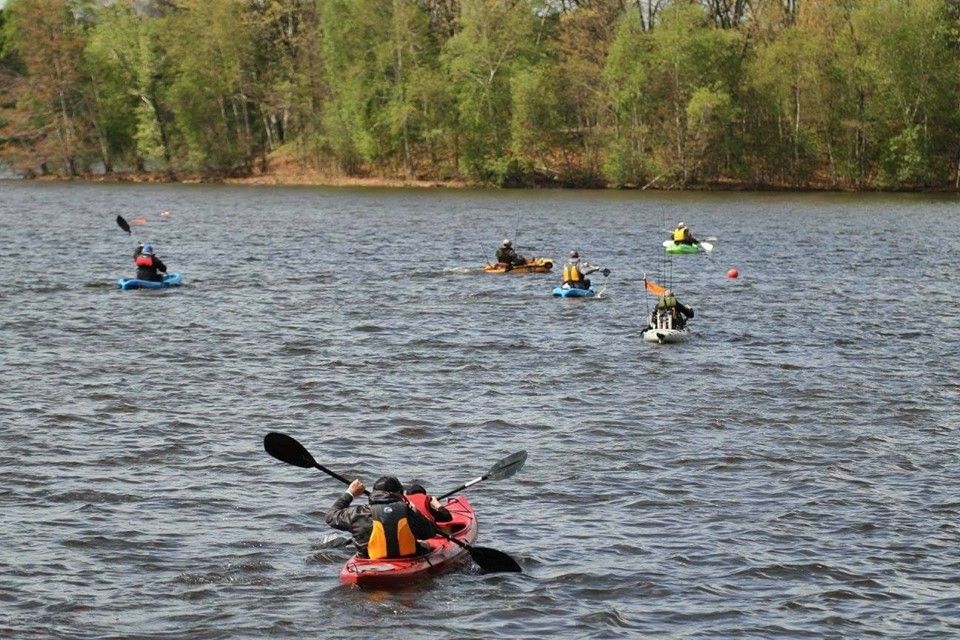 Heroes on the Water
Sunday, June 23rd
8:00 AM - 2:00 PM
A1 Pond, Westborough, Massachusetts 01581
Veterans, first responders and guests are invited to the second kayak fishing event of the year at A1 pond in Westborough MA. All kayaks and fishing equipment will be provided at no charge, also breakfast and lunch. There will be lunch at one of our supporters house a short drive from the pond . PLEASE EMAIL IF YOU WOULD LIKE TO ATTEND [email protected] so we know how many kayaks and how much food we will need, a head count is very important. Please feel free to bring your personal kayak or fishing equipment. Any questions please feel free to text call or email Greg at 781 985 4463.
9 Hole Mixed Couples Tournament
Sunday, June 23rd
11:00 AM - 1:00 PM
Westborough Golf Club, 121 West Main Street, Westborough, Massachusetts 01581
Tee Times 11:00 - 1:00.